It's true Sarkodie is on top of his game as he still remains the most successful Ghanaian and African rapper ever.
But he modestly acknowledges the prowess of other Ghanaian rappers most of whom paved the way for him.
In this write-up, www.Ghgossip.com takes you through a list of rappers Sarkodie respects and holds in high esteem.
1. Obrafour
Before Sarkodie emerged to monopolize the rap game, Obrafour was considered the greatest Ghanaian rapper of all time.
Yes- that was made official by connoisseurs, music lovers, and even his colleagues. But Sarkodie's emergence changed everything. And guess what- Sarkodie said everything he has become today is as a result of Obrafour's impact.
Apparently, he was so obsessed with him and became his protégé. We all know how Sarkodie praises Obrafour all the time so no need to go further. Sarkodie eventually lumped his words in the song, 'In This Life' where he took life lessons from Obrafour in the song.
2. Edem
Sarkodie told M.anifest during an Instagram Live session back in 2020 that Edem is one of his favorite rappers of all time. According to him, he can never mention any list without Edem even if he hasn't heard anything currently from him.
He added that he can barely understand what he says but he thinks he's dope and it's mostly for the reason that his flow, timing and delivery are on point. In other words, he doesn't need to understand his native language Ewe to rate him as one of the best in the game.
3. Gemini
Gemini would have been one of the best rappers on the African continent if he had taken his craft seriously. Well, the truth is we don't know what has inhibited his growth in the industry. He's professionally known as Gemini Orleans but his real name is Victor Mawuli Orleans-Fiaka. He is a Ghanaian hip hop artist who is known for the singles Never forget me, O day O day which features Edem and Sarkodie.
He was featured on Sarkodie's Makye Album which won the Album of the Year in the 2010 Ghana Music Awards.
Gemini is a great rapper and a 'killer' at punchlines. Sarkodie himself acknowledged Gemini's dexterity in the song 'Revenge of the Spartans.'
4. Okra Tom David
Okra is another talented rapper whose fame has evaporated into oblivion. Sarkodie's style of rap is so similar to that of Okra Tom David so much that people often say Sarkodie rode on his (Okra) identity to make a name for himself.
Born Emmanuel Ralph Kotei Nikoi, Okra Tom David is a Hiplife musician from Ghana. CEO of KING DAWIDI'S ARMY, Okra Tom is mainly known for his brilliant wordplay, fiery flow, and a nasally, aggressive voice.
5. M.anifest
Sarkodie holds M.anifest in high esteem despite the intense rivalry they got embroiled in a few years ago. If you could vividly recall, Sarkodie extolled the huge potential of M.anifest in his famous diss song dubbed 'Kanta'.
In that song, Sarkodie interestingly said he admits M.anifest is a great rapper but he's not making hit songs as compared to Patapaa.
M.anifest equally has mutual respect for Sarkodie and when they buried the hatchet finally, the end product was the new masterpiece they produced together dubbed Brown Paper Bag.
6. Tinny
Tinny is another rapper Sarkodie admires so much. He famously acknowledged the Ga rap proponent as someone who had a huge impact on his music career. He duly took to Twitter to send a shoutout to Tinny for shaping his musical journey from afar.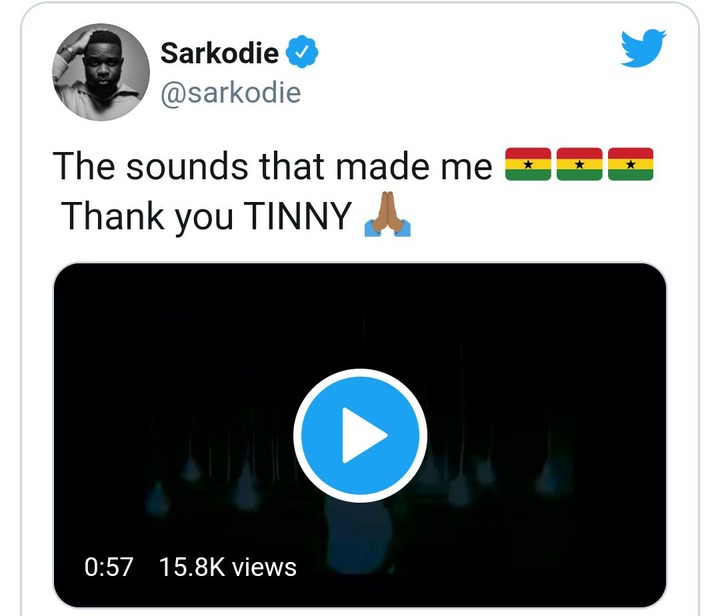 Tinny's real name is Nii Addo Quaynor.
He was born in Osu, Ghana to Mr. Ricky Tetteh Quaynor and Naa Badu Quaynor. He raps chiefly in his native language- Ga. He used to be one of the most sought-after Ghanaian artists until his career took a nosedive some few years ago.
SOURCE: www.Ghgossip.com