Ghanaians have reacted spontaneously to the sudden decision by President Nana Akufo Addo to quarantine himself although he has not tested positive for Covid-19.
READ ALSO: 'You Have Been A Huge Disappointment But I Still Love You'- A-Plus Pens Emotional Letter To Nana Akufo Addo
The severity of the global pandemic has dawned on Ghanaians after the sudden death of former General Secretary of the New Patriotic Party (NPP), Kwadwo Owusu Afriyie, known widely as Sir John.
In a twist of event, Nana Akufo Addo has decided to self isolate after one unnamed top government official tested positive for the deadly disease. As a precautionary measure, Nana Akufo Addo has gone on a 14 day mandatory self isolation which started on June 4.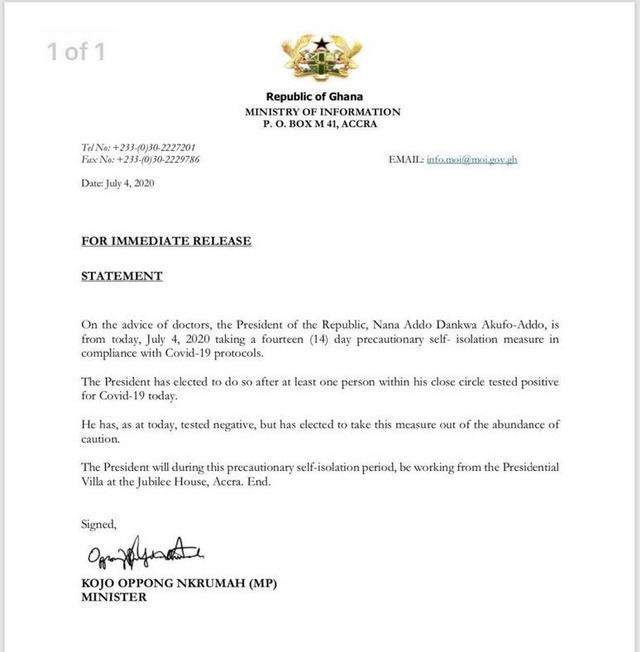 Apparently, the President is apprehensive as he stands a higher risk of getting the disease following the news of some NPP stalwarts like Carlos Ahenkorah, Peter Mac Manu and the late Sir John who have all contracted the disease.
With elections lurking in the corner and the high hopes he has of retaining his seat, Nana Akufo Addo definitely doesn't want to take chances at all, hence his decision to safeguard his health. Meanwhile, social media users who seem to have every say in all matters making rounds in the country shared their opinions about the interesting development.
SOURCE: www.Ghgossip.com