We have often heard tales of juju being used by a lot of female celebs in mainstream showbiz, particually actresses to charm influential and wealthy men and put them under their spell.
When this is achieved, these men after being hypnotized, fall under the whims and caprices of these women whose status in the echelon of the society skyrocket as they become owners of flashy cars and luxurious mansions. It's against this background that actor Uche Maduagwu has shed light on this unwholesome practice which continues to fester in Nollywood.
Here's what he shared in a new IG post;
#Omg, i am still in shock now, i just saw two popular actresses argue over the last #juju they used on a popular wealthy man in #Lekki. 🙄🙄Honestly, #Nollywood is indeed, a battle ground. I just left a #movie location in #Festac, 💔seriously, some actresses are bad #market, how can you #charm a man inside #Aboniki bottle for 3 years all because of money? 💰You dont even #care about his #wife and kids? I dont want to mention names because they will deny it immediately, but industry people know what i am saying is the truth, 🦅sources has it that the reason why some #marriages breakup quickly is because the juju expire and they failed to renew or the baba that did it for them died, what are these actresses turning this #film industry to?🤷‍♀️#repost.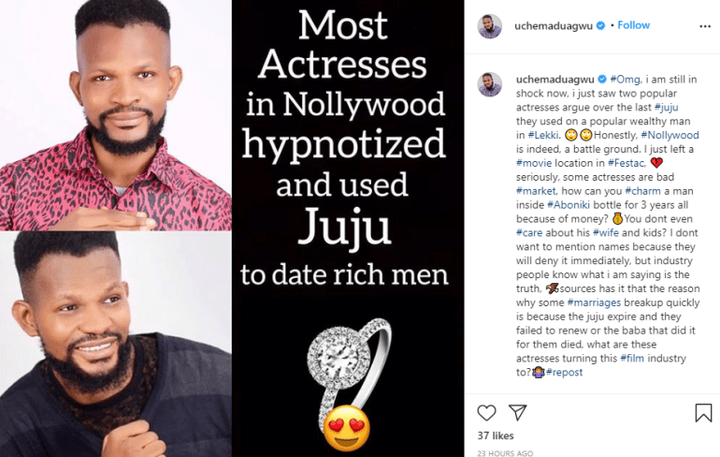 SOURCE: www.Ghgossip.com