After cursing a Twitter user on Tuesday morning for disrespecting her and her daughter, actress Yvonne Nelson loses her cool again – and this time, she targets actress and journalist, Victoria Lebene.⁠

Yvonne Nelson got furious when Victoria's husband, Eugene Osarfo-Nkansah of Nkonkonsa, shared a viral post of a fan jabbing her on Twitter.⁠
Here is what Victoria Lebene's husband posted on IG that got Yvonne Nelson mad;
Here is the Screenshot;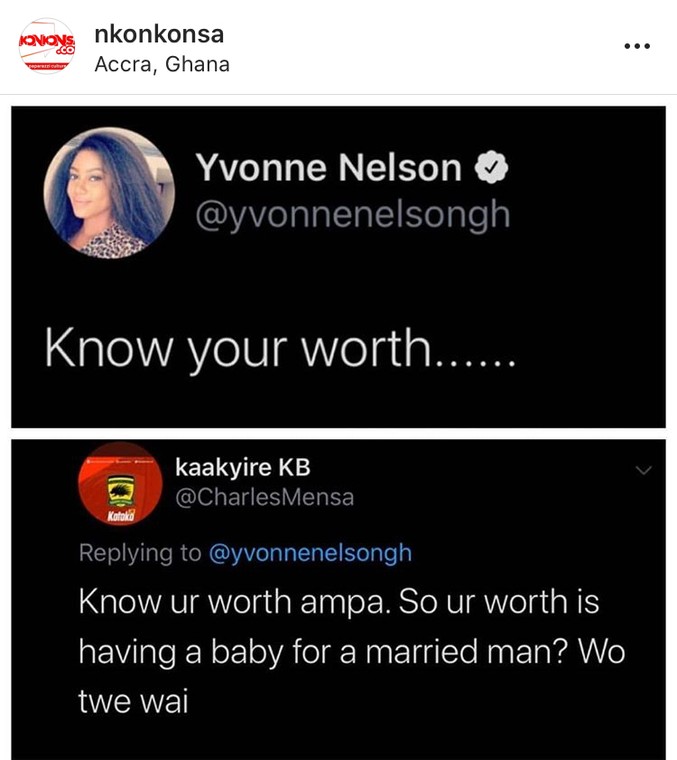 ⁠
Yvonne Nelson reacted to the post by asking if the tweet against her bothers Eugene. "And to you nkonkonsa, my tweet about knowing your worth bothers you??" she tweeted.⁠
.⁠
.⁠Yvonne further cursed the Twitter user saying: "The dumb charles in kokonsah's post, you are CURSED for life! Mark my words! Never bring my baby(daughter) into anything negative! God punish you! I've given you all the publicity you want! Enjoy it."⁠
Here is Yvonne Nelson's tweet for Victoria Lebene, she tweeted;
Bunch of losers! Y'all are pathetic. Someone is supporting her hubby for posting a diss, dont worry. You'll get pregnant/or is already pregnant, i pray you get treated with respect, and hope no one disrespects your baby. I pray your marriage lasts too.
Bunch of losers! Y'all are pathetic. Someone is supporting her hubby for posting a diss, dont worry. You'll get pregnant/or is already pregnant, i pray you get treated with respect, and hope no one disrespects your baby. I pray your marriage lasts too.

— Yvonne Nelson (@yvonnenelsongh) December 10, 2019