Actress Yvonne Nelson tweeted "Know your worth" and it sparked an outrage on the microblogging platform. Some fans believe her tweet was a shade to the celebrities who were caught in the Cardi B "meet and greet" brouhaha.
Out of the many reactions to Yvonne's tweet, one Twitter user's tweet which replied her saying that "know ur worth. So ur worth is having a baby for a married ma? Wo tw* wai" caught the attention of many with its screenshot going viral.
Here is the Screenshot;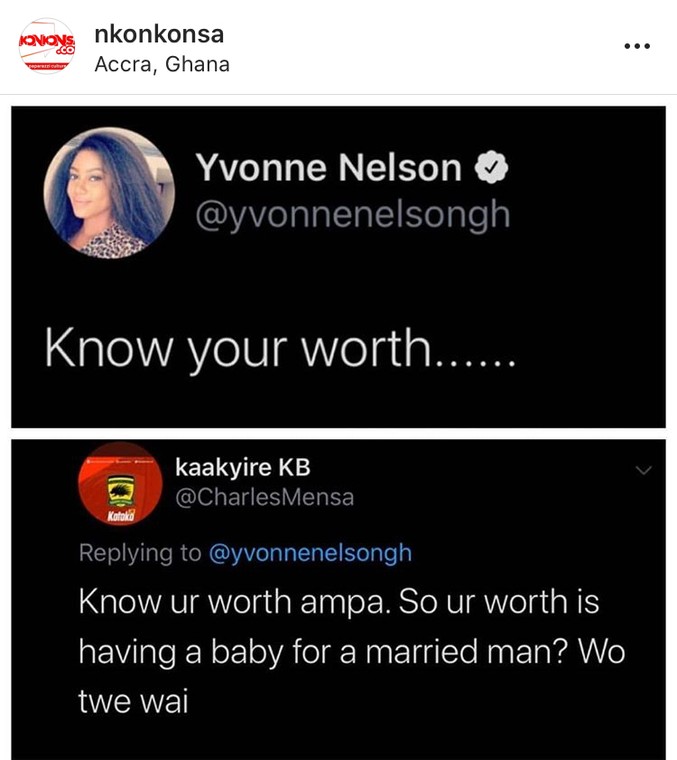 Well, this caused Yvonne Nelson to go 'mad' on Twitter.
She tweeted;
" I'll make this clear today! James Roberts, ryn's dad was divorced when i met him,(you can interview him) his ex wife isnt the mother of his 2 kids! And yes hes an AMAZING dad to ryn and his two kids! "
I'll make this clear today! James Roberts, ryn's dad was divorced when i met him,(you can interview him) his ex wife isnt the mother of his 2 kids! And yes hes an AMAZING dad to ryn and his two kids!

— Yvonne Nelson (@yvonnenelsongh) December 10, 2019
Yvonne Nelson continued;
" The dumb charles in kokonsah's post, you are CURSED for life! Mark my words! Never bring my baby(daughter) into anything negative! God punish you! Ive given you all the publicity you want! Enjoy it. "
The dumb charles in kokonsah's post, you are CURSED for life! Mark my words! Never bring my baby(daughter) into anything negative! God punish you! Ive given you all the publicity you want! Enjoy it.

— Yvonne Nelson (@yvonnenelsongh) December 10, 2019